Are you also searching for the best vacuum cleaner for cleaning your home? If yes, you must have heard about the comparison of Tineco s12 vs Dyson v11. Right?
Today, both Tineco and Dyson are known for producing the best cordless vacuum cleaners in the market.
Moreover, when it comes to their comparison, affordability, power, and innovation are many factors you need to consider before making a decision. 
For the past many years, Dyson has been dominating the market. However, Tineco's Start-up is also growing rapidly and has started competing with the market leaders in terms of quality. 
So, here's a quick Tineco s12 Vs Dyson v11 head-to-head Review. Plus, going to talk about the features and innovations in them. This way, you can make the best choice.
Properties of Tineco s12 Vs Dyson v11
For the competition of Tineco s12 Vs Dyson v11, we are breaking down their performance testing into 5 segments, as discussed below:
Pickup Test
Vacuum's pick up power comparison
Dyson v11 has better pick up than most vacuums in the market at this price rate. However, it usually struggles to pick up big stuff such as cereals. Other than that, it does a great job, especially on the carpet head.
It is excellent at picking them, but most hairs get stuck in the roller when it comes to hair picking. So, it might not be the best choice for someone at a barbershop for sure. 
In opposition, Tineco s12 gets difficulty picking up large debris from the floor after attaching the carpet roller. Yet, if you replace it with the soft roller head, it will start working perfectly fine.
Furthermore, it is the perfect vacuum cleaner to pick up hairs. It picks up hairs and sends them to the dustbin without getting any of them stuck in its roller. 
Both Tineco s12 and Dyson v11 did a superb job and gave excellent results in the pickup test. However, if you are ok with attaching or detaching the soft roller head and carpet head each time, you should go for the Tienco s12. 
Battery life
Vacuum Cleaner's Battery life
Dyson v11 comes with a single built-in battery. And it usually lasts around 74 minutes at low power settings (30 CFM), and when it comes to high power settings (56 CFM), it will last only for 8 minutes.
These numbers are estimations, and because it has an automatic suction adjustment, it will vary on how and where you are using it. 
On the other side, in Tineco s12 vs Dyson v11 competition, Tineco s12 features 2 detachable batteries. Each would last around 50 minutes at low power settings (26 CFM) and about 10 minutes at 43 CFM at high power settings (43 CFM).
Also, keep in mind that it will double the cleaning time if you use the secondary battery. 
So, when comparing both of their battery life side by side, it is clear that Tineco s12 has a clear edge over Dyson v11. So, for those who do not like to charge vacuum cleaners much, Tineco s12 would be a better choice. 
Automatic Suction Adjustment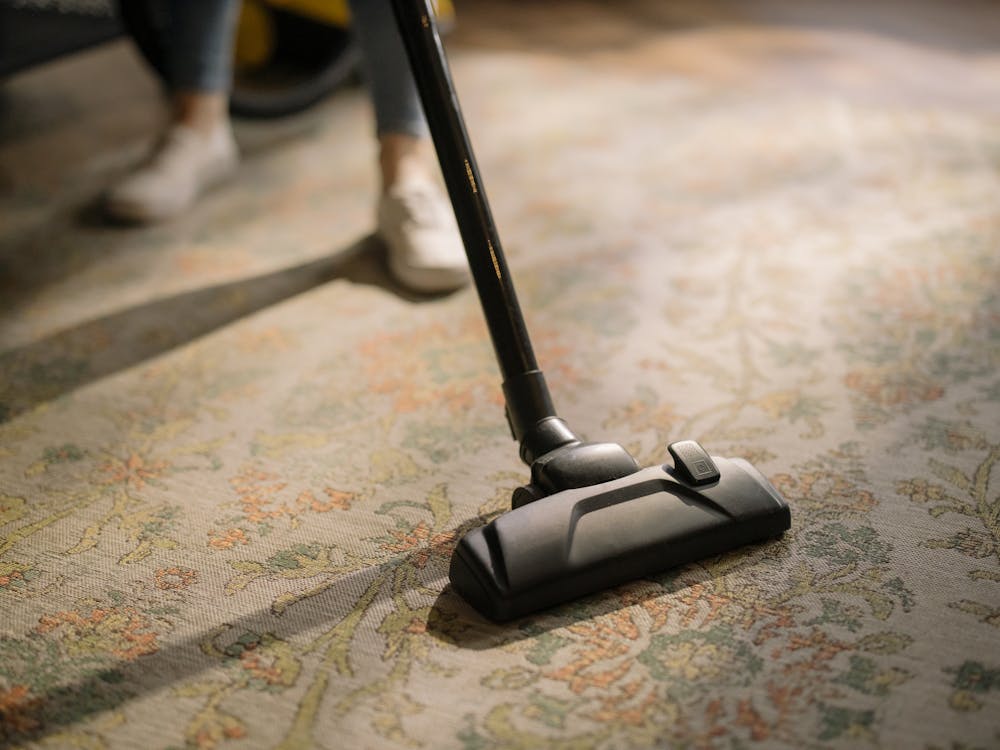 Vacuum's Suction/Power Adjustment
Dyson v11 comes with excellent automatic suction adjustment. It adjusts the suction power according to the floor. For instance, it boosts its suction for carpet and brings it down for the hard floor.
This way, Dyson v11 also saves a lot of energy. It is also an ideal vacuum cleaner for cleaning both hard and carpet surfaces.
On the other hand, Tineco s12 introduced adjusted suction with their latest dirt sensors. As the dirt level increases, the vacuum will be increasing its suction power and vice versa.
But, this technology is not ideal for use on carpets. In such wise, your battery will be expanding its lifespan. At the same time, it may not be as effective if you have both carpet and a hard floor. 
Therefore, in the debate of Tineco s12 vs Dyson v11, for people who want to clean both hard and carpet flooring with a vacuum, Dyson v11 can be a better choice among these two. 
Trigger
Vacuum's Trigger Button
Both Tineco s12 and Dyson v11 come with a trigger for turning on the motor. Even though the trigger is a minor feature for a vacuum cleaner, it can make a huge difference.
For example, if you use hard triggers for long, you are likely to have arm or finger fatigue. 
Dyson v11's trigger responsiveness is better than Tineco's s12 response time. Even though the difference is of a few milliseconds, it depends on the user's preference to use it. 
Other than that, Tineco s12 also has a trigger lock. This way, you need to press the trigger once, and you no longer need to make any efforts to keep it working. 
The trigger lock is an excellent feature, especially for cleaning large areas or more extended periods.
On the contrary, Dyson v11 does not have any trigger lock, and you would have to keep squeezing the trigger to keep cleaning. And this may also lead to finger fatigue, mainly when you use it in the long run. 
In yet another competition, you can see the Tineco s12 showing its superiority in the Tineco s12 vs Dyson comparison. 
Edge Cleaning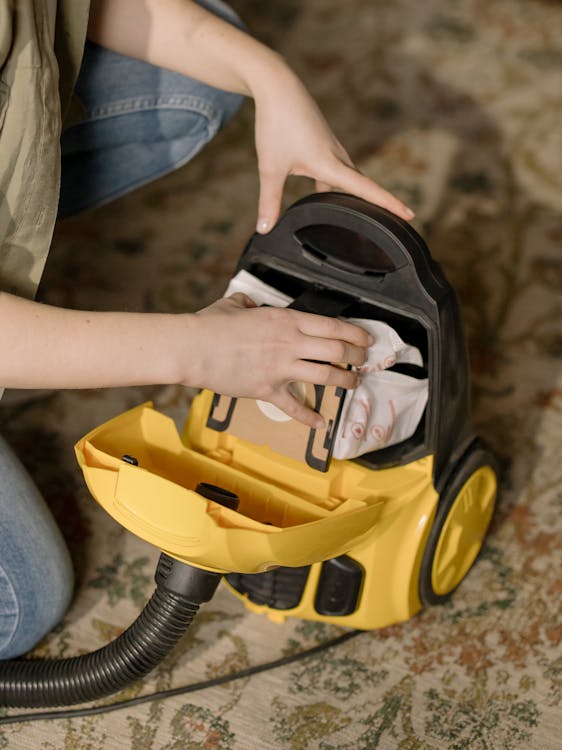 Cleaning Edges with a Vacuum
Edge cleaning is one of the trickest parts of cleaning a room with a vacuum cleaner, and we all have been through this. Therefore, Dyson v11 made efforts to make a design that will fit perfectly in those corners.
Regardless of either, you are using Standard Brush or Fluffy roll. It will perfectly fit those corner spots and give clean them up completely. 
You can also use Tineco s12 for the corner spots, but you would have to make those extra efforts to make it neat and clean.
Moreover, the Dyson v11's Torque drive attachment is more efficient as compared to any primary nozzles of Tineco s12, and it may also be because of the broader brush it has. Therefore, Dyson v11 has superiority in cleaning the edges of your room.
The Final Verdict
After all those head-to-head comparisons of Tineco S12 Vs Dyson v11, the superiority ratio in each category is 3 Vs. 2. Yet, the margin between them is not too big.
Therefore, if you pick any of these two, you are making a great choice, and the other one is also as good. Still, you can make decisions based on your preferences. 
For example, if you like vacuum cleaners that come with a bundle of tools, Tineco S12 is the one to go with. Or you can also consider trying the Tineco S12 Plus, as it comes with 13 attachments.
Moreover, it is more of an all-around vacuum cleaner. You can clean both carpets along with hard floorings with it. But, you may have to master the use of all its tools.
This way, you will be able to use it effectively inside your vehicle or room. 
In contrast, if you are one of those people who do not like to play much with the extra tools that come with the vacuum cleaner or have a wall to wall carpeting in your home, then the Dyson V11 can be a better choice for you because it can pick up the gunk embedded under the strands.